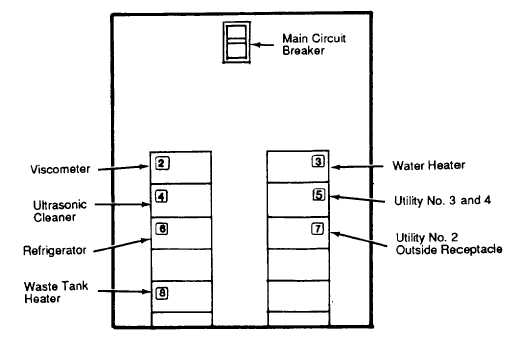 TM  10-6640-233-10
(8)  Enter the receiving room located at the rear of the trailer and reset main circuit breaker on Power Panel
number 2 (Figure 2-7) by turning it to the "ON" position.
Figure 2-7.  Power Panel Number 2
WARNING
Do not turn on Water Heater Circuit Breaker (No.  3) or Water Heater Circuit Breaker (No.  8) until
water system has been charged, otherwise death or serious injury to personnel could result.
(9)  Switch on circuit breaker in Power Panel number 2 as required.
(10)  Remove any auxiliary overpack containers from the rear, main and utilities walkways.
(11)  Remove any preservation masks, covers, and panels from the laboratory equipment.
(12)  Remove any preservative/packing material from the compressor, vacuum pump, water pump, and any
other support/services device located in the mechanical room.
(13)    As  climatic  conditions  apply,  activate  the  appropriate  ECU  No.    2,  3,  and  4  controls  (heating  and/or
cooling) (Figure 2-6).
NOTE
Auxiliary heating elements are located in the supply ducting.  At temperature below zero degrees
Fahrenheit (F), these elements will activate in conjunction with the main heating system.
2-36