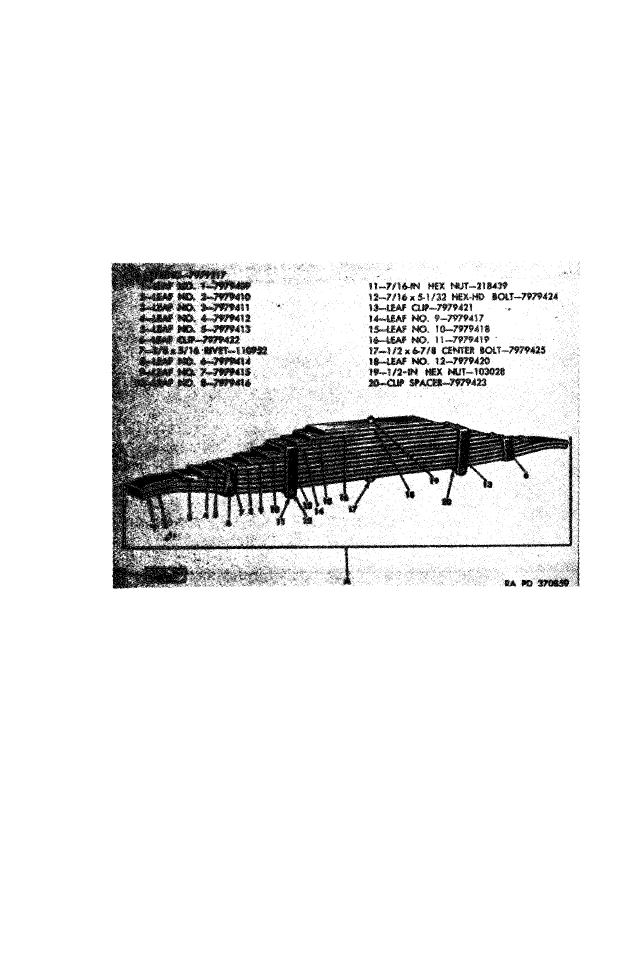 off

deformed ends of

two

hex-head bolts (A-12) that
secure leaf clip to springs, and end of center bolt.
Pull hex-head bolts through leaf clips

(A-13)

and clip
Use heat to open formed leaf clips.
Do not heat clips unnecessarily. Gradually relieve ten-
sion on clamp,

press,

or vise. Separate leaves.
Figure
56.
Spring
7979217-assembled
view.
Cleaning.
Clean each leaf with mineral spirits paint
thinner or dry-cleaning solvent. Brush or buff rust
and corrosion from leaves.
( 4 ) Inspection
Inspect each leaf

for

cracks
or breaks. Replace

defective

leaves. Make sure

rivets
hold clips tightly and check leaf clips

for

cracks.

Cut
( 5 ) A s s e m b l y . Assemble
with lower (larger) leaf No. 1 (A-1). Aline holes

for
center bolt and insert 1/2 x 6 7/8 center bolt

(A-17)
leaves Nos. 2 through 12. Clamp leaves together

with
arbor

press,

vise, or C-clamp, and install 1/2-inch hex