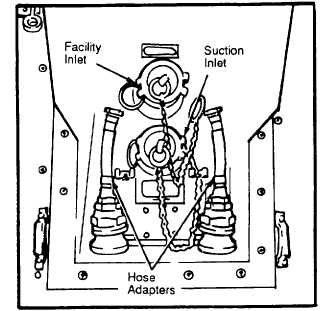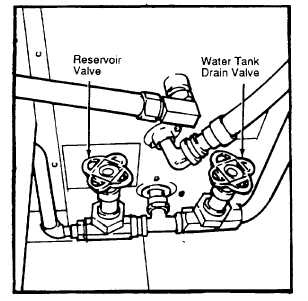 TM 10-6640-233-10
2-9.    Operation  of  Water  System

 

The  water  system  can  be  filled  from  potable  or  unknown  water  sources  using  a
pressurized or unpressurized system.
NOTE
Prime the water pump before starting.
a.

Potable Source, Pressurized System.
(1)  Remove a hose adapter from water inlet box and hook up the 50 foot garden hose to the hose adapter.
(2)    Hook  up  the  hose  adapter  with  garden  hose,  to  the  facility  inlet  on  the  curbside,  exterior  of  the  van
(Figure 2-10).
Figure 2-10.  Water Inlet Box
(3)  Ensure the water tank drain and reservoir drain valves in the mechanical room are both closed and that
exterior drains are closed (Figure 2-1 1).
Figure 2-11.  Reservoir and Water Drain Valves
Change 1    2-40