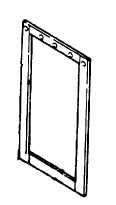 TM 10-6640-214-13
Instructions:
Gasket. Make  from  Gasket,  Rubber  3/4  WD  x  3/8  THK,  P/N  MIL-R-46089,  cut  to  size  using  a  Craftsman  Knife,  NSN
5110-00-223-7782.
Figure F-5.
Gasket, Rubber.
Instructions:
Hose.
For:
13226E6661-413, Make from Hose, P/N SAE20R3G, .cut to length.
EB-43-0250.  Make from Tubing, Nonmetallic P/N PPB-64-0500, cut to length.
13226E6661-32.  Make from Tube, Nonmetallic P/N EB-86-0250, cut to length.
7193.  Make from Hose, Rubber, P/N 7193-63200, cut to length.
Cut all tubing and hoses to length using a Craftsman Knife, NSN 5110-00-223-7782 or if needed, use a
Hacksaw, NSN 5110-00-289-9657.
Figure F-6.
Hose.
F-4