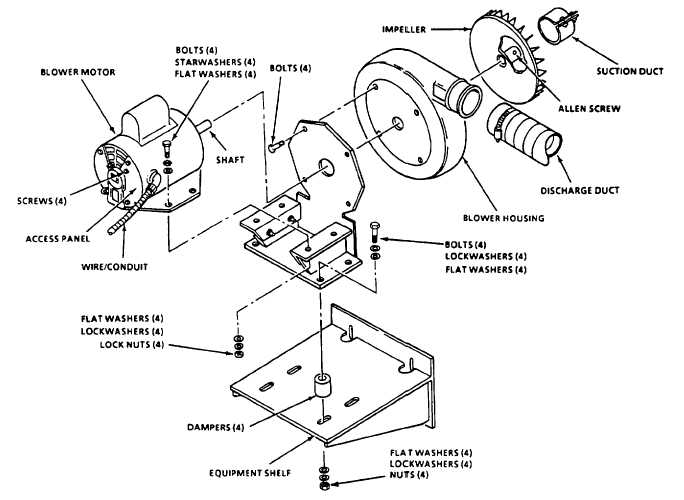 TM 10-6640-215-13
5-25.  REMOVE/INSTALL GUM BATH VENT/FUME VENT BLOWER
AND MOTOR  continued.
d.   Place  assembled  blower  and  motor  on  equipment  shelf  and  position  suction  duct  between  equipment  wall  and
blower housing.
e.   Install dampers, flat washers, lock washers and bolts to secure motor bracket to equipment shelf.
f.
Install discharge duct on blower housing and tighten clamp.
g.   Connect wiring and conduit to blower motor.  Remove tags.
h.   Install access panel and four screws on blower motor.
i
On MAIN POWER PANEL, set circuit breaker A1CB2 to ON.
j.
Prepare  and  operate  water  system  using  internal  water  tank  as  source  in  accordance  with  procedures  listed  in
paragraph 2-8.
k.   Check for proper operation.
Figure 5-25.  Gum Bath Vent/Fume Vent Blower and Motor Removal and Installation
5-51