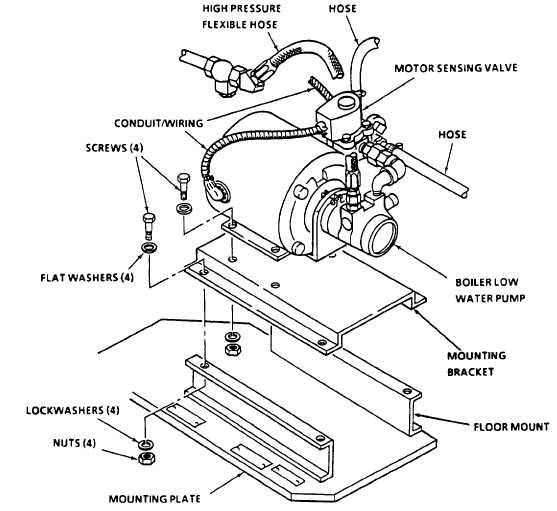 TM 10-6640-215-13
5-17.  REMOVE/INSTALL BOILER LOW WATER PUMP - continued.
d.
Apply teflon tape to male fittings.  Be sure to wrap tape in same direction as pipe thread.
e.
Connect high pressure flexible hose to boiler inlet line.
f.
Connect boiler low water pump wiring and conduit to junction box on back of electric steam boiler.
g.
Install boiler low water cutoff pump control (para.  5-16).
h.
Open water feed boiler valve located on equipment wall.
i.
Set circuit breaker A15CB5 on POWER PANEL No.  2 to ON.
j.
Prepare and operate water system using internal water tank as source in accordance with procedures listed in
paragraph 2-8.
k.
Inspect for leaks and check for proper operation.
Figure 5-15.  Boiler Low Water Pump Removal and installation
5-31