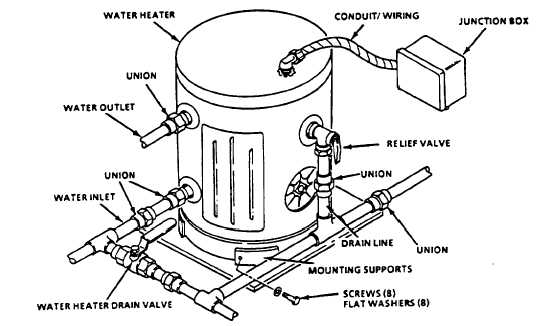 TM 10-6640-215-13
5-12.  REMOVE/INSTALL WATER HEATER - continued.
INSTALLATION
Install  Water Heater.  See figure 5-8
a.
Connect conduit and wiring to water heater.  Remove tags.
b.
Install two threaded pipe adapters and relief valve on water heater.
c.
Position water heater on mounting supports in cabinet U.
d.
Install two screws and fiat washers in each of four mounting supports.
e.
At junction box in cabinet U, connect water heater wiring and conduit.  Remove tags.
f.
Apply teflon tape to male fittings.  make sure to wrap tape in same direction as pipe thread.
g.
Connect water heater relief valve union
h.
Connect water heater outlet line union.
i.
Connect water heater inlet line union.
j.
Close hot water faucet and water heater drain valve located in cabinet U.
k.
Install shelf in cabinet U.
l.
Set water heater circuit breaker A  CB 17 to ON.
m.
Prepare and operate water system using internal water tank as source in accordance with procedures listed
in paragraph 2-8.
n.  
Inspect for leaks and check for proper operation.
Figure 5-8.  Water Heater Removal and Installation
5-15