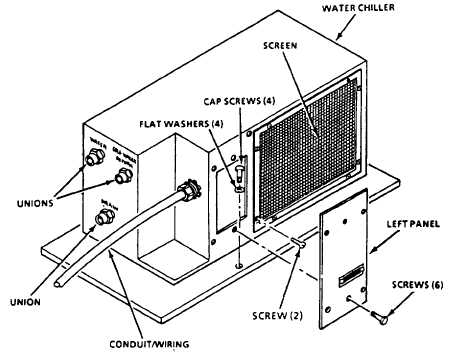 TM 10-6640-215-13
5-9.  REMOVE/INSTALL WATER CHILLER - continued.
Figure 5-5.  Water Chiller Removal and Installation
INSTALLATION
Install Water Chiller.  See figure 5-5.
a.
Apply teflon tape to male fittings.  Be sure to wrap tape in same direction as pipe thread.
b.
Install pipe fittings on water chiller.
c.
Install water chiller on foundation mounting plate with four screws, flat washers, lockwashers, and nuts.
d.
Install water chiller foundation mounting plate on machinery room floor.  Secure with - four flat washers and
capscrews.
e.
Connect three unions that connect the water supply, water return, and drain lines.
f.
Connect conduit to water chiller.  Connect water chiller wiring and remove tags.
g.
Position left panel on chiller.  Install two screws in screen and four screws in left panel.
h.
On POWER PANEL No.2, set circuit breaker AI5CB8 to ON.
i.
On POWER PANEL No.  2, set circuit breaker A15CB7 to ON
j.
Prepare and operate water system using internal water tank as source in accordance with procedures listed
in paragraph 2-8.
k.
Inspect for leaks and check for proper operation.
5-9