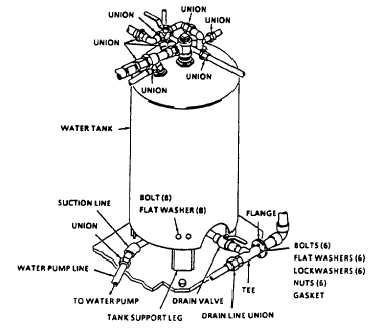 TM 10-6640-215-13
5-6.  REMOVE/INSTALL WATER TANK - continued.
l.
Remove drain valve and tee from water tank (para.  5-7).
INSTALLATION
Install Water Tank.  See figure 5-2.
a.
Apply teflon tape to all male fittings.  Be sure to wrap tape in same direction as pipe thread.
b.
Install pipe fittings on water tank.
c.
Install drain valve and tee on water tank (para.  5-7).
d.
Position water tank on tank support legs.  Install two bolts and flat washers in each tank support leg.
e.
Secure tee flange to tank drain line with gasket, six bolts, lock washers, and nuts.
f.
Connect drain line union (opposite from pipe tee flange) to tank drain line.
g.
Connect union on tank suction line to water pump.
h.
Connect seven unions to water tank connections on top of tank.
i.
Set A15CB8 at POWER PANEL No.  2 to ON.
j.
Set switch on WATER PUMP controller to ON.
k.
Prepare and operate water system using internal water tank as source in accordance with procedures listed
in paragraph 2-8.
l.    Inspect for leaks and check for proper operation.
Figure 5-2.  Water Tank Removal and Installation
5-5