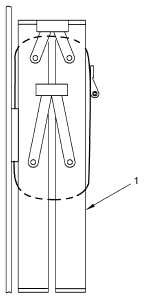 TM 10-5411-232-13&P
CARGO BED COVER (CBC) M105A2 TRAILER, TYPE II
0018 00
24-INCH LADDER   
THIS WORK PACKAGE COVERS:
Remove, Replace
INITIAL SETUP

:
Maintenance Level
Materials/Parts
Unit
24-Inch Ladder P/N 104049
Tools and Special Tools
None     
GENERAL
This procedure contains information and instructions to keep CBC ladder assemblies in good working
order by removing and replacing damaged parts.
REMOVAL
1.  Open ratchet strap assembly by pulling up on inner lock, holding it and pulling it to full down position.
Release strap and remove ladder (1).
REPLACE
1.    Place ladder against CBC in front of ratchet strap assembly.  Connect buckle and move it up and
down to tighten the strap.  This holds the ladder in place.
END OF TASK
0018 00-1/(2 Blank)