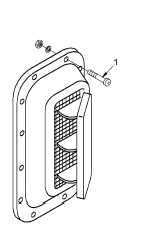 TM 10-5411-232-13&P
CARGO BED COVER (CBC) M105A2 TRAILER, TYPE II
0015 00
2-WAY VENTILATOR    
THIS WORK PACKAGE COVERS:
Remove, Replace
INITIAL SETUP

:
Maintenance Level
Materials/Parts
Unit
Screws, 10-24 x .63 lg;
Tools and Special Tools
Washers, No. 10; Nuts, 10-24
Screwdriver, Philips #2
Self-Lock; 2-Way Ventilator  
Wrench, 3/8" Socket
P/N 104050; Sealing Compound
P/N 700145
GENERAL
This procedure contains information and instructions to keep CBC 2-way ventilator assemblies in good
working order by removing and replacing damaged parts.
REMOVAL
1.    Using Philips #2 screwdriver, remove twelve screws, nuts and washers (1), while loosening nuts
with socket wrench from inside CBC shell.  Remove 2-way ventilator by pushing it through to the
inside.  This requires two personnel.
REPLACE
1.    Apply sealer P/N 700145 around the inside and outside of flange and screws.  Seat 2-way ventilator
into opening and, using screwdriver and socket wrench, replace screws, nuts and washers.  Tighten  
securely.
END OF TASK
0015 00-1/(2 Blank)