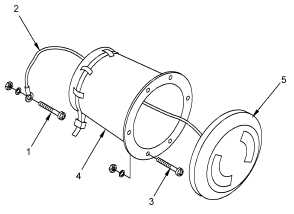 TM 10-5411-232-13&P
CARGO BED COVER (CBC) M105A2 TRAILER, TYPE II
0014 00
ACCESS PLATE   
THIS WORK PACKAGE COVERS:
Remove, Replace
INITIAL SETUP

:
Maintenance Level
Materials/Parts
Unit
Screws 10-24, .88 lg; Washers,
Tools and Special Tools
Flat No. 10; Washers, Lock No. 10;
Screwdriver, Philips #2
Nuts 10-24; Screw 6-32, .25 lg;
Wrench, 3/8" Socket
Access Plate P/N AP40W;
Cable Boot P/N 18-4055;
Lanyard P/N MS25083-2CC28;
Sealing Compound P/N 700145
GENERAL
This procedure contains information and instructions to keep CBC access plate assemblies in good
working order by removing and replacing damaged parts.
REMOVAL
1.    Using Philips screwdriver and wrench (see WP 2100 00, Table 0021 00-2, Item 1), remove screw,
nut, and washer (1) holding lanyard (2) to the inside of CBC shell, by loosening nut from inside.
2.    Turn access plate (5) counter-clockwise and remove.
3.    Using Philips screwdriver and wrench, remove additional five screws, nuts and washers (3) from
inside CBC on cable boot (4) by loosening nuts from inside.  Two personnel are required.  Remove
cable boot.
4.    Remove other end of lanyard from access plate by removing screw.
0014 00-1