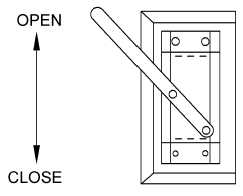 TM 10-5411-232-13&P
CARGO BED COVER (CBC) M105A2 TRAILER, TYPE II
0007 00
OPERATION UNDER UNUSUAL CONDITIONS
THIS WORK PACKAGE COVERS:
Emergency Procedures
INITIAL SETUP:
Maintenance Level
Materials/Parts
Operator
Tools and Special Tools
Mallet, NSN 5120-00-926-7116
EMERGENCY PROCEDURES
WARNING
Do not remain inside the CBC with door closed.  There is a suffocation hazard.  A person
inside the CBC can exit quickly (even with the external latch padlocked) by operating the
inside handle to open the door.
In the event that personnel is accidentally locked inside the CBC, an override on the latch allows the upper
door to be opened from the inside.  See Override Door Latch illustration below.
Override Door Latch
0007 00-1