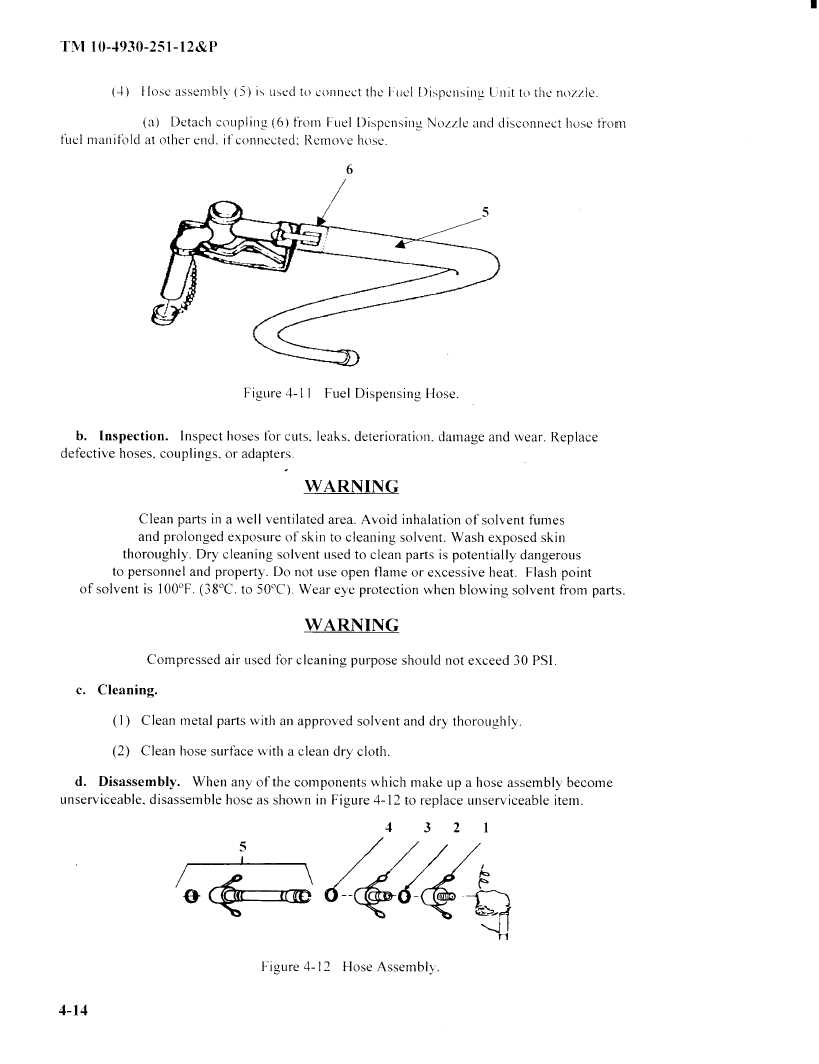 TM   10-4930-251-12&P
(4)    Hose assembly (5) is used to connect the Fuel Dispensing Unit
to the

nozzle.
(a)   Detach couplling (6) from  Fuel Dispensing Nozzle  and disconnect hose from
Fuel manifold
at  other  end    if  connected-.   Remove   hose.
6
Figure   4-11
Fuel   Dispensing
Hose.
b.     Inspection.
Inspect   hoses  for  cuts,  leaks,  deterioration,
damage   and  wear.   Replace
defective
hoses,  couplings,
or  adapters.
WARNING
Clean  parts  in  a well   ventilated    area.  Avoid    inhalation    of  solvent   fumes
and  prolonged    exposure   of  skill   to  cleaning    solvent.   Wash  exposed   skin
thoroughly
.
Dry   cleaning
solvent    used  to  clean   parts   is potentially
dangerous
to  personnel    and  property.
Do  not  use  open   flame   or  excessive    heat.
Flash  point
of  solvent    is  100 F.   (38C.
to  50C).
Wear   eye  protection
when   blowing
solvent    from   parts.
WARNING
Compressed
air   used  for   cleaning
purpose   should    not  exceed   30   PSI.
c.
Cleaning.
(I)
Clean   metal   parts  with   all  approved
solvent   and  dry   thoroughly.
(2)
Clean   hose  Surface  with    a clean   dry   cloth.
d.     Disassembly.
When   any  of  the  components
which    make   up  a hose  assembly
become
unserviceable,
disassemble
hose  as  shown   In  Figure   4-12   to  replace    unserviceable
item.
4
3
2
1
5
Figure 4-12
Hose Assembly
4-14